►SWENSON'S WORLD OF TOMORROW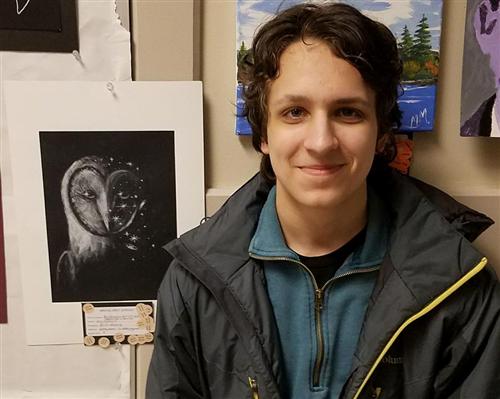 Orion at this year's ARHS art show, near his black and white
drawing "The Universe But if it Was Shaped Like a Barn Owl."
---
►Questions? Email me (See "About Me" page)
It's always a good idea to both attach files and copy and paste text into the body of the email.
---
My 2016-17 Schedule
1st
: Planning
2nd
: Societies of the Future
3rd
: AP Literature
4th
: Newspaper (1st lunch)
4th
: Creative Writing (1st Lunch)
5th
: Honors 10 Literature
6th
: Honors 10 Literature
---
Above is the book cover for my 2nd novel. Click to see more info about it and the first novel The Ultra Thin Man at my author website.
---

►Brewster Rockit Comics of the Week!