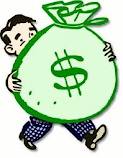 The Latino Medical Student Association has two high school scholarships available for Latinx students for the 2021-2022 academic year.

See the flyer below

:

THE FOLLOWING SITES CAN BE USEFUL IN YOUR SEARCH FOR SCHOLARSHIPS:

A scholarships search

for Washington state students only

Fastweb

:

Customized college scholarship searches with detailed profiles on many colleges

W.U.E.

(Western Undergraduate Exchange)

Students in western states may enroll in many two-year and four-year college programs at a reduced tuition level. Please check with each college to find out more details, since the requirements vary.