Lea Hill's
Mission, Vision, and Values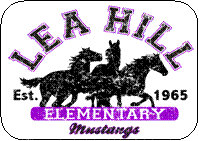 Our Mission

Lea Hill exists to ensure
individual academic success.



Our Vision

Lea Hill is a learning team of
staff, students, parents, and community that is driven by individual student
achievement.




Our Values

· Accept no limits on the learning potential of
any child.

· Meet the individual learning
needs of each child.

· Create serious classroom learning
environments.

· Treat students, parents, and
colleagues with courtesy and respect.

· Hold students, parents and each
other to the highest standards of performance.

· Collaborate regularly with
colleagues to seek and implement more effective strategies for helping each
child to achieve his or her academic potential.