Working Together to Fulfill Our Mission,

We maintain and support —

22 school sites, 8 support sites

Approximately 2 million square feet of district facilities

200+ acres of turf, irrigation, and landscaping

Electrical and mechanical systems

Warehouse support, storage, and transportation/delivery

Custodial support and facility event preparations

Heating/ventilation services

Painting/glazing and vandalism services

General maintenance including roofing

Print shop services

Kitchen equipment services

Security systems repair including fire/alarm systems

Flooring maintenance and restoration

We look forward to working with you.

Randy Thomas, Executive Director of M&O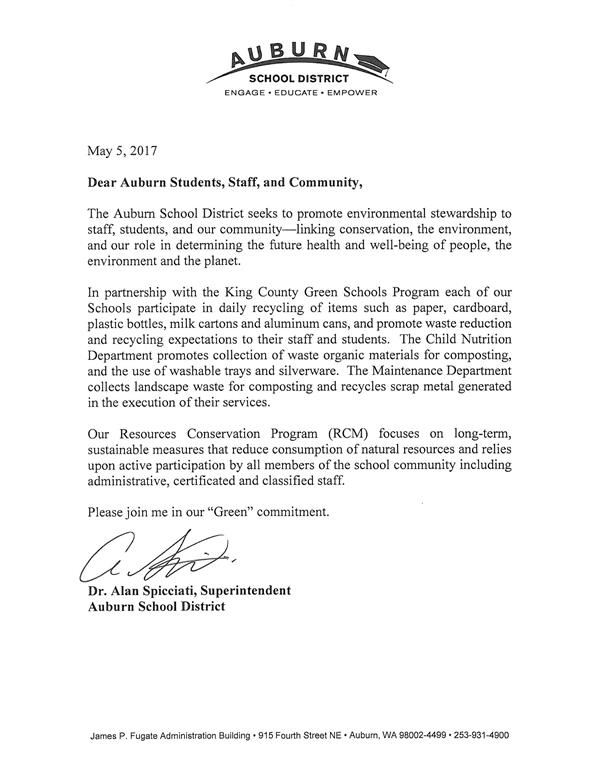 ASD Level 1 Green School District

---

Auburn School District was recognized as a King County Level One Green School District for completing waste reduction and recycling criteria. The district has expanded and improved recycling in its school facilities, and has implemented waste reduction practices such as using durable, reusable trays and utensils in several school cafeterias and converting Staff Links to a digital publication thus eliminating 1,600 paper copies each quarter.

Of the 20 schools in Auburn School District that participate in the program:

19 schools have been recognized as Level One Green Schools.
7 schools also have been recognized as Level Two Green Schools.
5 schools also have been recognized as Level Three Green Schools.
2 schools also have been recognized as Sustaining Green Schools.