Return to Headlines
Teachers and Classified Employees of the Year 2023
---
DeeDee Goodspeed, Ilalko, Elementary Teacher of the Year
The Auburn School District board of directors recognizes DeeDee Goodspeed, PE teacher at Ilalko Elementary, as the Elementary Teacher of the Year.
DeeDee has been in the Auburn School District at Ilalko for 31 years and has taught more than 14,000 students during her career. She makes sure PE is fun while educating the students on how exercising can improve quality of life. She strives to involve classroom teachers into her classes to foster great relationships. She has also been a mentor to many PE teachers in the district.
She earned her bachelor's at Seattle Pacific University in K-12 PE and Special education. She earned her master's at City University.
Over the years, DeeDee has implemented numerous programs that have become part of the Ialko culture, including the Annual Mile Run, Special Olympics events, volleyball and basketball programs and much more. She brings unique insight into student data discussions both about academics and behavior.
DeeDee loves her job. She said the most important aspect is getting kids to love fitness. She said it's rewarding when former students see her, give her a hug and tell her she made a difference in their life. She especially loves it when former students become teachers. A career highlight is when her training prepared her to administer CPR and she saved a student's life at school.
Receiving this recognition has been overwhelming and humbling. DeeDee said she has been blessed to work with many amazing educators. She said she always tries to be a good human and do her best every day. She is very thankful for her career.
DeeDee grew up in Kent. She and her partner Jeannie live in Puyallup. She has three adult children, two who graduated from the Auburn School District.
When not working, she loves to go to the beach, fundraise for a variety of charities, travel, particularly to Greece, and spend time with her family. She is thinking about retiring. But not yet.
---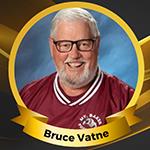 Bruce Vatne, Mt. Baker, Middle School Teacher of the Year
The Auburn School District board of directors recognizes Bruce Vatne, counselor at Mt. Baker Middle School, as the Middle School Teacher of the Year.
Bruce has worked in the Auburn School District at Mt. Baker since 1995 and has set the bar high for connecting with students and families.
Prior to working in Auburn, he worked in two smaller districts. He has spent 44 years working in public education and enjoys helping kids make good decisions. He enjoys counseling and also is a four-sport coach. Both roles allow him to help students see their potential. Bruce earned his bachelor's at Wartburg College and his master's at Pacific Lutheran University.
He loves working with the Mt. Baker staff and the team of counselors because everyone is focused on the students. He said it is really nice to be recognized with this award.
Over the years, in addition to being a counselor and coach, he has served as team leader, on the SIP team, on the equity team, on the AVID team, drug/alcohol committee and so much more.
Bruce's compassion and advocacy of students has significantly contributed to the tone and heart of Mt. Baker. He is a strong advocate for students and has made amazing connections with many outside community agencies. He uses those connections to support kids and families. Kids are very comfortable coming to him because they know he cares.
He also is involved in the greater Auburn community. He is a member of Messiah Lutheran Church where he is instrumental in their youth programs.
Bruce grew up in Minnesota. He and his wife of 30 years, Traci, live in Pacific. They have two adult children, both Auburn School District graduates.
In his off-time, Bruce likes to hike, play softball, bicycle and travel to Minnesota. He is considering retirement, but not right now. Maybe next year.
---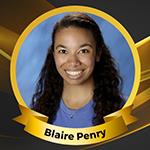 Blaire Penry, Auburn Online, High School Teacher of the Year
The Auburn School District board of directors recognizes Blaire Penry, marketing and electives teacher at Auburn Online, as the High School Teacher of the Year.
Blaire is in her third year with the Auburn School District. Prior to Auburn she worked in the Clover Park School District and taught in Texas. She earned her bachelor's at the University of Arizona, her master's at Texas Woman's University and recently started her principal certification program through Eastern Washington University.
Blaire is an innovative, equity-driven teacher-leader. She has served as team lead, is on the building leadership team, co-lead of Visible Learning, on the SIP team and on the Equity team. She is an active member of ATLA and the Black Parents Alliance. She volunteers in DECA programs, participates in the Black/African American affinity group and serves on CTE advisory committees. She is also involved with the Rainier Educators of Color network.
In every learning experience Blaire facilitates, her students drive and lead the learning. Her unconditional positivity for her students is a key reason she is so impactful.
Blaire loves her job and said she gets to laugh with her students every day. She loves exploring topics that students find relevant to their lives.
As part of this award, two students wrote letters of support for her application as regional teacher of the year. She said it was very humbling to read those letters and teaching is not just a job, it's an emotional commitment.
Blaire grew up in Belfair in a Navy family. She and her husband of seven years, Travis, live in University Place with their 3 ½ year old son.
When not working, Blaire enjoys baking, listening to podcasts and outdoor activities. She lives near the water and likes to kayak, hike and be near the beach. The family recently adopted Suki, what they thought was a black lab puppy. Suki turned out to be a Great Dane. She was a BIG surprise!
---
Classified Employees of the Year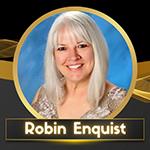 Robin Enquist, Classified Employee of the Year-Elementary
The Auburn School District board of directors recognizes Robin Enquist, custodian at Lakeland Hills Elementary, as the Elementary Classified Employee of the Year.
Robin is an exceptional employee who shows up every day and puts her heart and soul into making a positive difference. She always has a smile and a friendly word. She keeps the building in tip-top shape and manages the custodial team with organization and grace.
As busy as she is, she always helps teachers, staff and students. She works with kids who have behavior struggles and they assist her with jobs around the school. She encourages them and they feel a sense of importance through their work with her.
She also runs the after-school Green Club to teach kids about recycling and reducing waste. She plans after-school craft parties for staff. She also plans parties for all district custodians to build connections and feel appreciated.
Robin loves the kids at Lakeland Hills. She loves the hellos, the hugs and the smiles.
She said, "When I'm not at school, I miss them dearly."
She has worked in the ASD for 20 years. She spent four years in the Child Nutrition Department and then switched to custodial work.
Robin said this award affirms her role in the Lakeland Hills family and she feels extremely appreciated. She said she is part of a great team and said her team shares in this success.
Robin grew up in Tacoma and lives in Puyallup with her husband Darv, who also works for the ASD. They have three children and three grandchildren. Though they've been married 14 years, they have been friends since they were 10 years old.
When not working, you can find Robin in her crafting room. It is her happy place.
Robin is a true professional who loves and supports the district, school and community. She makes a huge difference every day.
---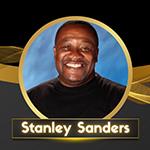 Stanley Sanders, Classified Employee of the Year-Secondary
The Auburn School District board of directors recognizes Stanley Sanders, custodian at Auburn Riverside High School, as the Secondary Classified Employee of the Year.
Stanley has worked in the ASD for almost five years. Prior to coming to Auburn he worked in the Federal Way School District and at the King County Housing Authority.
Stanley's impact on the students and staff at Auburn Riverside was highlighted in numerous nominations for this award. The consensus is Stanley is the type of employee awards like this are meant for.
His work ethic is unparalleled and shows in the cleanliness of the building, excitement for the job and his willingness to always help. What sets Stanley apart is the relationships he builds with everyone he comes in contact with. Everyone feels special after interacting with him. He understands students are the most important customer and supports them at sporting events, sings them happy birthday and even participated in graduation ceremonies. He is an amazing role model.
He takes pride in his work and ensures the building is cared for--both the physical building and the people. He believes kids need to be heard, loved and accepted. He is thrilled to be there for the students at Auburn Riverside.
Stanley said he is in awe and full of joy about this award.
Originally from California, Stanley moved to Washington after a family tragedy. He reset his life and is happily married to Aisha.
In his free time he likes to work out, go on long walks and spend quality time with Aisha.
Stanley said no matter where his career takes him, he will always be a Raven at heart.
Another colleague said, "Stanley is a bright light. We need more Stanley Sanders in our schools and in our world."
---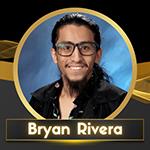 Bryan Rivera, Classified Employee of the Year-Support
The Auburn School District board of directors recognizes Bryan Rivera, help desk technician in the Department of Technology, as the Support Classified Employee of the Year.
According to several colleagues, "Bryan is the best thing to happen to the administration building." He makes everyone feel welcome, knows everyone's name and goes above and beyond to make sure people get the help and support they need.
He is always eager to help and is happiest when he can solve other people's problems. He is cheerful, authentic and tries to make everyone's day better.
He is passionate about his work in the technology department and how it supports everyone - colleagues, schools, teachers, students and the community.
Bryan returned to the ASD in the spring of 2022. He is a 2012 Auburn Riverside graduate and former Department of Technology intern. He came back to Auburn after working for CodeDay, a non-profit providing opportunities for under-served students to explore a future in technology.
Bryan loves working in technology. He said he is humbled by this award and it is fulfilling to be recognized. His future career goals are to work as a computer engineer and be a technology leader.
Bryan lives in Auburn with his 4-year-old daughter, Ada. Ada is named after Ada Lovelace, the inventor of computer programming.
When not at work, he spends time with his daughter. He also creates digital music, is the cofounder of a livestream DJ network, develops apps, works on programming projects and is a huge Pokemon Go fan. He recently attended an international Pokemon festival in Las Vegas.
Bryan is happy to be back working in the district where he graduated. He gives special credit to Frank Medina, one of his teachers at Auburn Riverside, for his mentorship, influence and for guiding him to the DOT internship program.