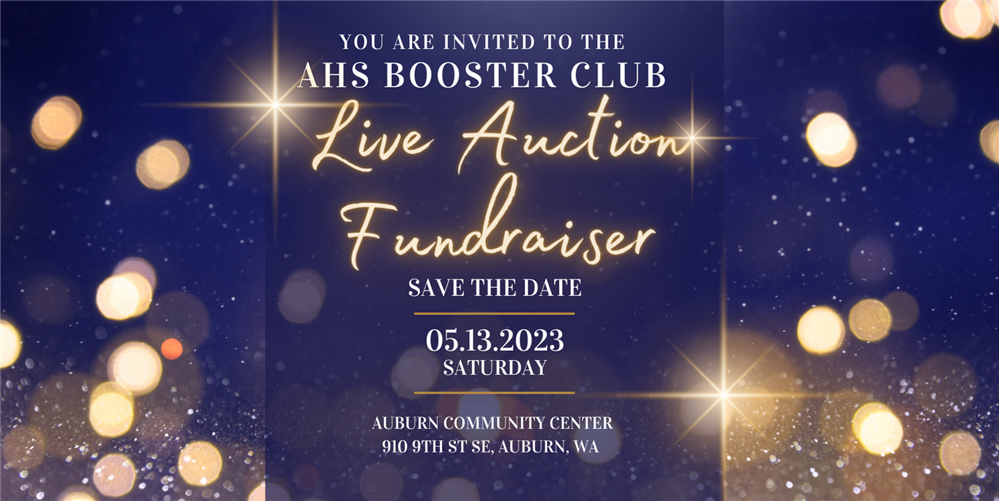 When: Saturday, May 13th at 6pm

Where: Auburn Community & Event Center at Les Gove Park

Why: To support AHS students in all sports, clubs, and activities

Follow: Our Facebook Group: Auburn High School Booster Club

Tickets: $60 for a single ticket (gets you in the door and dinner), $400 buys a table for 8 people (saves you $10 per ticket if you get a group of friends to go with you)

Ticket Link:

https://teamtroyevents.ejoinme.org/tickets

Here are some of the highlights of the event and auction:

A silent auction with a wide range of auction items (food gift cards, gift baskets, service gift cards, rounds of golf, etc...)
A live auction with a few (10-15) mid to high value items (including a trip to Mexico, Wine Tasting Weekend, Sports tickets, etc...)
Raffle items where you buy a lower priced raffle ticket (think $5-25 dollars per ticket) in order to win a fairly high value item(s)
A dessert auction (dessert for your table after dinner) to benefit the Bob Jones Scholarship Fund ($$$ to be matched by two outside donors!)

This will be a fantastic evening of socializing with teachers, AHS alums, and community members. Dinner is included with your ticket price and there will be a cash bar open throughout the evening. If you have never been to an AHS Auction, they are a bunch of fun and it would make a great date night right before Mother's Day on Sunday.