Seeking Applicants for Director District 3
The ASD Board of Directors is accepting applications from residents interested in serving on the ASD Board of Directors representing Director District 3. The District 3 position was recently vacated and residents must live in Director District 3 to be considered. The Board will interview and appoint a replacement for the vacant position. The successful appointee will run for the seat in the fall of 2023.
Please submit a letter of interest outlining the qualifications and a resume. Letters of interest or questions should be sent to amuxen@auburn.wednet.edu or 253-931-4917.
Timeline:
Letter of interest due: May 31 at 5 p.m.
Interviews: June 6 at 6 p.m. in the Board room of the JPF Administration Building.
Director District 3 Map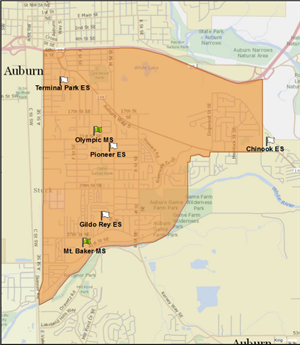 Who are school board directors?
Washington State's public school districts are directed by elected school boards. These board members--called "school board directors"--are citizens! They are parents and grandparents, young adults and senior citizens, and community members from all walks of life. The term length is four years.
Each member brings his or her varying experiences and background to inform good decision-making in a spirit of teamwork. Most people choose to serve to give back to their community and to help children get a good education. There is a small stipend for attending various district events, with a maximum amount each school year.
To be considered, you must be a registered voter and live within your school district boundaries. In Auburn, you are also required to live within the defined director area that you run for. The open area is Director District #3.
School board work includes:
Adopting policy
Establishing and assessing goals
Overseeing the financial affairs of the district
Acting as a liaison between the community and the District
Hiring and evaluating the superintendent
Advocating for students, the District and public education
The Auburn School Board of Directors meets the 2nd and 4th Monday of every month at 7 p.m. (except in December and July, only one meeting).
Board members also serve on sub-committees that meet based on director availability and have occasional Saturday work sessions.
Board members represent the board at various community and district events, as time allows.